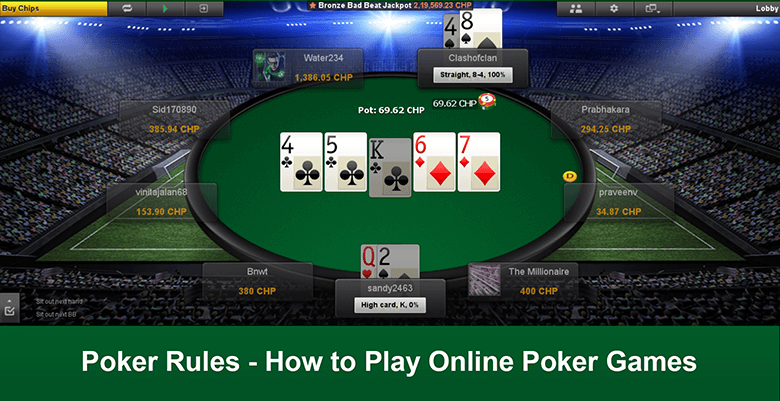 Poker
Poker Rules – How to Play Online Poker Games

by Gutshot Editorial
Posted on 27 Sep, 2019
If you are just getting started with playing poker games online, then you should read through a few tutorials and guides on the rules of poker to get a basic understanding. In most cases, playing online poker games becomes fairly easy once you get accustomed to the basic poker rules. These include the knowledge of poker hand rankings, different types of poker games & its variations, dealing cards, betting rounds, among others.
In this guide, we'll take a look at how to play poker games online, primarily, three popular poker card games – Texas Hold'em, Omaha, and Open-Face Chinese Poker. We'll also look at the poker game rules for each. Thus, let's get started!
A] What You Need to Play Online Poker?
Before we take a look at how to play poker and the different poker rules of each game, here are a few things you need to play poker online.
To begin playing online poker for real money, you need to, first, download the online poker software of your choice and sign up. There are many poker rooms available online. However, if you are a beginner, then The Spartan Poker is a great choice. This platform is 100% legal, secure, and the app can be downloaded on Windows & Mac, Android or IOS.
After selecting a poker room, the next step is to deposit money. This can be done via credit card, debit card, or net-banking. Some poker rooms like The Spartan Poker also accepts payment through digital wallets such as PayUmoney. The best part, most Indian poker rooms also offer bonuses and other promotional offers, wherein, you can get a 100% instant bonus on your first deposit along with other freebies.

These are a few requirements for playing online poker. You can play poker for as low as Rs.50 when it comes to cash games, or participate in tournaments, wherein, the buy-in is much lower. In fact, you can play freeroll tournaments where you need not invest a single rupee in order to try out the game and still win real money bonuses! Now, let's check out the different types of poker games that are available across all poker sites.
B] What Poker Games Can You Play Online?
1. Texas Hold'em Poker
This is one of the most popular poker games in the world. All poker rooms in India offer Texas Hold'em poker game at different stake levels. This poker game can be played with 2-10 players on a single table.
Texas Hold'em poker rules are simple, and the goal is to make the best five-card poker hand. To make a poker hand, you can either use both the hole cards and three community (board) card, or use one hole card and four community cards, or use no hole cards at all, just the five community cards, which is referred to as 'Playing the Board.'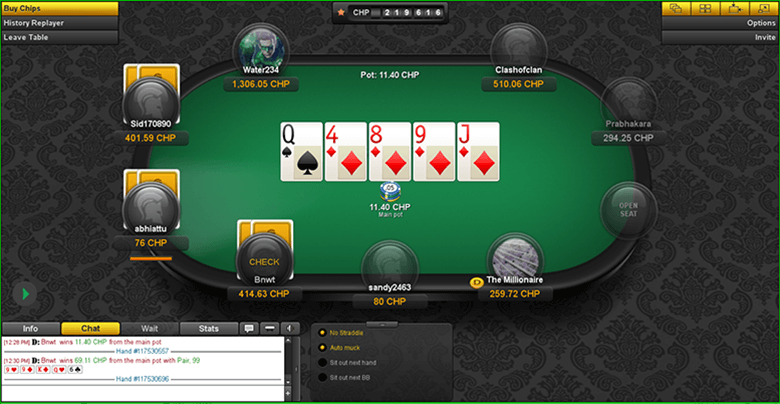 To choose the dealer, cards are spread face-down on the table. Each player picks one card, and the player with a high-value card (Aces) gets to be the dealer for one hand. When the hand is complete, the current dealer will pass the dealer button to the player sitting on his left, and this continues after every hand.
To begin the game, two players are obligated to post small or big blinds. This is referred to as 'Forced Bets.' This is important to get the ball rolling so that there is some money in the pot to play for. The player to the left of the dealer is usually the first to put out a small blind.
How To Play Texas Hold'em Poker Game?
Each player is dealt two cards face-down, referred to as "pocket" or "hole cards." Once the two cards are dealt to all players, the betting begins. Here, you have the option of calling a small blind, a big blind, folding, or raising the bet.
Divided into three stages; in the first stage, three community (board) cards are revealed (face-up) after the first round of betting is completed. This is called the 'FLOP.' This is followed by another round of betting, at the end of which the fourth community card is revealed called the 'TURN.' The fifth community card is revealed after the last round of betting and is called the 'RIVER.'
After the last betting, players who are still in the game will reveal their hand, and the one with the best poker hand wins.
2. Omaha Poker
Similar to Texas Hold'em, there are five community (board) cards (flop, turn and river) with four betting rounds in Omaha. The only difference is, when playing Omaha, players are dealt four hole cards (in Hold'em, two cards are dealt).
So, the goal changes to make the best five-card poker hand with three community cards and two hole cards. Here, the Omaha poker rule is that the players must use two hole cards to create the best poker hand.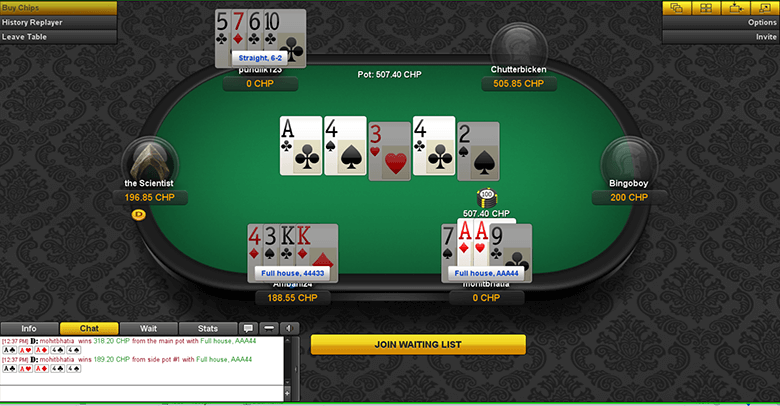 The Dealer Button and Blinds
This is similar to Texas Hold'em, wherein the dealer button is rotated to the left at every hand. The blinds, too, are the same, including four rounds of betting, starting with the 'Forced Bets.'
3. Open Face Chinese (OFC) Poker
While in the above two poker games 'bets' are placed, OFC Poker is played for 'points.' The Spartan Poker is one of the poker rooms in India that offer this game. This poker game is played with a standard 52-card deck and can be played with 2 to 4 players. The dealer's button rotates the same way as in Texas Hold'em.
Played with 13 cards, the goal of this poker game is to make three sets of poker hands (top, middle, and bottom.) Here, the top set includes three-cards while the middle and bottom set has five-cards each. The hands are scored as regular poker hands.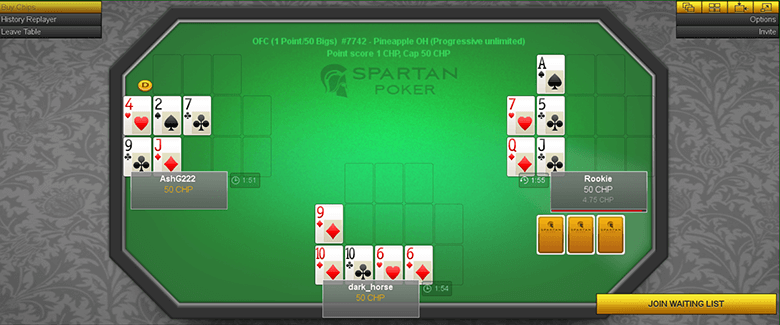 How To Play OFC Poker Game?
To begin with, players receive five-cards each. They need to arrange these cards in a set and can place them either on the top, middle or bottom hand. Here, it is important to note that once the initial five-cards are placed in a set, it cannot be rearranged.
The game continues clockwise with one card being dealt at a time until all 13 cards are dealt. Upon receiving each card, the players can place them in the three sets/hands, as they seem fit.
To make a 'qualifying' hand, players need to arrange the cards in an order where the bottom hand is higher than the middle hand, and the middle hand is higher than the top hand (but lower than the bottom hand) while the top hand should be lower to the middle and bottom hand both.
If you fail to make a qualifying hand, then your entire hand is considered as 'foul.' When the set is not placed in a proper order, which is difficult to make when you are dealt one card at a time, it is termed as 'Fouling.' For example, if you have triple Aces in the middle hand and two Kings (K) on the bottom hand.
Scoring Points in Open Face Chinese (OFC)
Once the three sets/hands are made, you compare it with your opponent. Here, each qualifying hand is worth one point. So, you win 1 point if you beat your opponent's corresponding hand (top hand vs top hand) while if you win all three hands, which is known as 'scooping,' you earn a 3-point bonus. You also get bonus 'royalty' points for certain high ranking hands in the top, middle, and bottom hands.
#Conclusion
If you have been following the online poker news, then you would be aware of the several poker rooms that are available online. At present, these poker rooms in India offer only Texas Hold'em, Omaha, and OFC poker game variations. By knowing the rules of poker games, you will be able to enhance your play and win huge pots. Thus, make the most of this guide on how to play online poker games, and get started by downloading the poker software of your choice, sign up, and play now!
---
---
Comments